In 2011, Inc. Magazine contributing editor Darren Dahl surveyed nearly 500 Small Business Owners and asked them their reasons to run a small business. Here's what his respondents said:
Top 10 Reasons to Run Your Own Business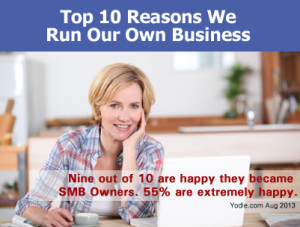 Control your own destiny.
Find your own work/life balance.
Choose the people you work with.
Take on the risk & reap the rewards.
Challenge yourself.
Follow your passion.
Get things done faster.
Connect with your clients.
Give back to your community.
Feel pride in building something of your own.
Darren Dahl, "Top 10 Reasons to Run a Small Business." (Jan. 2011) www.inc.com/guides/201101/top-10-reasons-to-run-your-own-business.html, accessed May 12, 2014
If you're reading the list and you sighed at even one of them because you've gotten off track, I've got a simple one page tool that can help you get your groove back.
But first, I want to share one of the most inspiring notes I've ever received. Notes like these confirm my own SBO purpose and passion. It came from Michelle Wood-Voglund on the last day of running her retail business downtown.
"Nicole – I'm feeling sentimental as it's my last official work day with actual store hours and I wanted to share this thought with you. In the class I took with you last December, something stuck with me. You said, 'Don't build a business you don't want.' You know, darn it if I haven't thought about that sentence each and every day for the last 12 months. In the past year, I've been courting several museums and galleries across the country and when I close my shop to move to a fun new production warehouse space…I'll pull the trigger this spring on all of the plans that you've helped me make, whether you knew it or not. I'll also have much more time with my family (for once, we DO have time for those swim lessons!) and will be creating art on my terms, which is what I've wanted from the beginning. I appreciate you."

– Michelle Wood Voglund, WillowStainedGlass.com
Isn't it fantastic that Michelle had the courage to change her business model to better suit her goals as a mother and artist? (Thanks Michelle for allowing me to share your story as inspiration for all of us!)
Don't build a business you don't want!
Getting your business in line with your goals is possible for you too.
Start by printing this one page worksheet and list the things YOU WANT on the left (like time to take your daughter swimming, Fridays off, debt free, etc.) and the things you DON'T WANT on the right (like store hours, rush deadlines, etc.).
Then, take a hard look at your business (and your behaviors) to see where the business you're building is in direct conflict with your WANTS and DON'T WANTS and have the courage to ADJUST!
Launch that new idea. Let go of those stressful clients. Cancel – or sign – the lease. Delegate more stuff. Adopt better behaviors. Fire unreliable help (people, systems, or suppliers). Shut down products or services that don't reward you.
Have the courage to build the business you really want!
To quote the movie We Bought a Zoo, "Sometimes all it takes is 15 seconds of insane courage."
You can do it. I believe in you! Start now and print the worksheet.
Taking this week's challenge?  Please let me know in the comments below.
To your remarkable success!
– Nicole
P.S. Join the class that Michelle references above: Breakthrough Marketing Workshop