Like many of you, I've spent the bulk of December "punching out" of 2016 with a nice list of DONE!'s in time for the big ball drop…and creating a new master list of To Do's for 2017.
Well, actually…only for the first 90 days of 2017.
One of my favorite strategies is working in 90 Day blocks instead of 365 Day years.
Since a task tends to take as much time as you give it, there's value in giving yourself less time.
It also helps you keep focused on what matters most now…with less overwhelm.
Setting and achieving goals in 90-Day increments is freakishly empowering. Even Presidents do it.
Franklin D. Roosevelt pioneered the idea of a 100 Day plan when he took office during the Depression.
Roosevelt's New Deal took advantage of the freshness of the New Year, "the aura of victory", and the urgency of a nation in crisis.
Every president since has drafted a 100 Day plan, hoping to achieve a few big wins as a foundation for the next 4-8 years.
Enticed by the idea of starting YOUR First 100 Days with a lasting achievement?
The secret is setting priority goals that make the rest of your year easier.
The right book can make all of your marketing easier because it allows you to position yourself as an expert in your niche while sharing your message in an authentic and meaningful way.
That's why writing a book is on most business leaders' bucket list.
I'm here to suggest you could get yours done much faster than you think.
Write a Book in Your First 100 Days
In December I sat next to a gentleman at a business conference in Indianapolis. He was telling me about his goal to write a book in the next two years.
In fact, he shared, he had already determined the title and much of the outline.
"Two years?" I asked. "Why not 90 Days?"
You could practically see the gears turning. He didn't know why…and he was intrigued by the question.
The truth is, most people think it takes much longer to write a book than it really should.
As I reminded him, he already knew the subject inside and out.
What takes so long isn't writing content. It's the procrastination between chapters because of a lack of a plan.
Most books can easily be written at a pace of one chapter a week.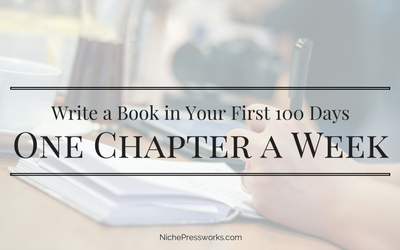 This is where the 90-Day Year (about 12 weeks) lines up nicely:
Week 1: Refine your idea.
Week 2: Create a good outline.
Weeks 3-12: Write one chapter a week.*
Week 13: Send the manuscript to an editor while you start your next 90-Day goal: Publish.
(*Your outline from week 2 will help you determine if you want 6 chapters or 12. Simply adjust your writing time as desired.)
Writing one chapter a week is about the same pace as blogging.
Totally doable.
Take the first step by answering 7 simple questions to get the right book idea for your business goals.
You'll find them all here in The Write Start.
It's the perfect inspiration tool for this New Year start.
Forget 12 month plans. Start dreaming about what you could have DONE by the end of March.
The new calendar has begun.
Let's get booking!
– Nicole
P.S. The #1 mistake business authors make is writing THE WRONG BOOK. The resulting 'flop' is a real financial and emotional blow. I don't want that to happen to you. Be sure to go through these 7 questions with an open mind so you find the RIGHT idea for you.