#Worksmarter At a Glance:

What it is:  Voice-activated commands on your smartphone (Siri on an iPhone, Google Now on Android, etc.)
What it does:  Schedules meetings, sets reminders, opens apps, sets alarms, sends emails and more (see below).
You need it if:  Ideas and tasks often pop into your mind while you're doing something else.
Business use ideas:  Voice-activated smartphones (like iPhone's Siri) make terrific free virtual assistants because they're with you all the time and simple to use. Here's a reprint of a post I wrote last year:
11 Ways to Use Siri as Your Free Business Assistant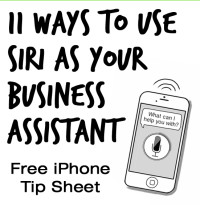 If you haven't taken the time to get to know and use Siri – your iPhone virtual assistant or the voice activation features of your smartphone…this blog is for you. Siri makes a terrific virtual assistant, especially if you're away from your desk a lot.
I use Siri at least 5-10 times a day – ranging from finding out what's on my calendar, to checking the weather forecast and sending a quick email or text message. I usually have her set an alarm around 3 p.m. so I remember to pick up my girls at school. I even ask her to remind me to document my vehicle mileage on December 31st every year. She does.
Speaking to Siri is also a super fast way to add anything to your calendar. You simply press and hold the Home button and say "Add a meeting with Jan at Panera Bread on Tuesday at 2 pm."
If you have your contacts synced with your email account try this: "Send Dan Smith an email…"  It's that easy. You can even ask her to read emails and text messages.
There's so much more she'll do too. I outlined 11 ways to use Siri's voice activation services below.
Once you've turned this feature on, begin experimenting with these techniques. You can also PIN a nice graphic of this list on your Pinterest board to share it with others.
11 Ways to Use Siri's Voice Activation
To activate Siri, press and hold the Home button until Siri responds. Then simply speak one of the italicized phrases.
1. Contact Someone
Call Home.
Text Jane Smith.
Email Will Davis.
Reply to Tom Allen.
2. Look up Information
Show Jane Smith.
Look up caterers near me.
How is the stock market doing?
What time is it in California?
3. Manage Your Calendar
Set up a meeting at 9 with Jay.
Move my 3 pm to 4:30.
Reschedule my 1:00 meeting.
4. Check Your Calendar
Whats on my calendar Friday?
When am I meeting with Sarah?
5. Set Reminders
Remind me to call Susan.
Set a reminder to Call Susan for tomorrow at Noon.
6. Manage Your Task List
Show my "Today" task list. 
Add Postage Stamps to my Shopping List.
7. Control Time
Set an alarm for 6:30 pm.
Set the timer for 10 minutes.
8. Read (Sing) to Me
Do I have any new messages?
Check email.
Any new emails from Kelly today?
Play "Margaritaville".
9. Get Directions
Find coffee near me.
How do I get home?
Directions to the nearest UPS?
10. Take Notes
Note: Pinterest marketing idea.
Note: Gift ideas for Clients.
Add '4 Hour Workweek' to my Books Note.
Start a new note…Movie ideas.
11. Post to Facebook or Twitter
Post to Facebook.
Post to Twitter.

Have another idea to add to the list, or tips for Android users? Please share below: