I offer different coaching levels with different degrees of support, accountability, and help.
One-time Consult
This one-time session is for the people who need to 'pick my brain' and get clarity on a piece of the puzzle – like "What are some other ways I could sell my products or services?" or "What's the best way to get my message out to a large audience?" This session is great if you're highly motivated and a good implementer and you just need some insight, clarity and inspiration.
Orientation Assessment: As soon as you've committed to working with me, you'll receive an assessment questionnaire to help me get clear about your goal, the challenges you're facing, and what outcome you'd like during our time together. I'll do my research in advance so I'm equipped to dig right in when we meet.
1.5 Hour Fast Track Session. With clear goals established before we meet, we'll spend our time focused on the best path to get you there. This meeting can be help via Phone, Skype, or in person in Lafayette, IN.
30-Minute Follow-Up Call to answer any lingering questions and make sure you're confidently proceeding. To encourage you to implement immediately, this call must be made within 10-days of our original meeting.

The 90-Day Push
Use this time to focus on one or two of the core areas of your business and get them finely tuned in a short amount of time. Great for projects like creating an marketing campaign, creating automated marketing systems, or redesigning your business model and your products & services.
Assessment: As soon as you've committed to working with us, you'll receive a handful of thought-provoking (and some simple fill-in-the-blank) questions to help me get to know your business, your industry and your goals. I'll dive in and research what I need to be at my best for you and then contact you to set up our strategy session.
1.5 hour Launch Session. During our time together we'll identify the goals you want to achieve, determine the strategies that are most appealing to you, and create a manageable plan to everything done. You'll be crystal clear on what you want to accomplish and have a very specific action plan for the next 90 days.  This meeting can be help via phone, Skype, or in person in Lafayette, IN.
Step-by-Step Project Checklists and my resource referrals. It is one thing to know you need to create something like a social media strategy or a video sales letter. It's a whole different ball-game figuring out how to do it or where to go to get the applications you need to get it done. In addition to your plan, I'll provide you with step-by-step checklists and resource suggestions and help you prioritize these tasks into your 90-Day Plan.
Two 45-minute sessions to keep hammering out the details of your implementation plan.  This call is the heart of your program and the accountability you need to stay focused and on track.  These can be done via phone or Skype.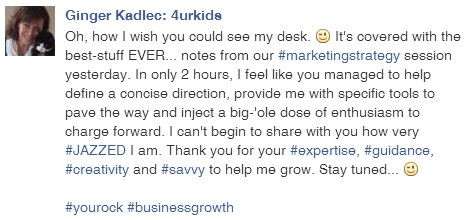 The One Day Crush it! Marketing Day for Teams
Invite your team to join us for a Private Strategy Session focused solely on you and your goals. During our day together, we'll create a crystal clear plan to attract and retain your ideal clients for your key service(s). In a surprisingly short amount of time, you and your team will:
Create a common understanding of your ideal clients and why they choose to do business with you so you can serve their real needs.
Use your marketing messages to position your team as experts in your field and discover ways to add additional value…and possibly new income streams.
Identify multiple ways to capture new business including up-selling, cross-selling, and referrals.
Perfect your prospect and client experience and systematize it so that you leverage opportunities before, during, and after the sale.
Prioritize your ideas so the work gets done.
Your Crush It! Experience includes a detailed executive summary of our day's decisions and my recommended action steps fully outlined as a prioritized checklist. Seven days later, We'll meet with you to go through the report and determine the best way to get the work done and the plan implemented using your team or ours.
Your Next Step
Working with us begins with a simple phone call.
Contact Us to schedule yours.