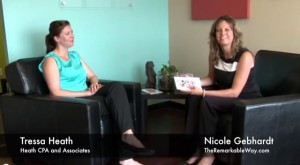 With her disarming wit and keep-it-simple explanations, this wonder woman CPA almost makes Accounting fun. She certainly makes it understandable and her new book slips in just the right mix of wit and wisdom to help her ideal clients get the right start they need.
Join me as I talk with Tressa Heath, owner of Heath CPA & Associates about her book "Accounting: The Super-Duper Fun Part of Starting a Business". (Psst: you can buy it on Amazon.)
A mom of three under five, Tressa will blow away any reasonable excuse you might be harboring for not getting your book done and she shares the ways being a published author is bringing her new clients. (Think: author-ity.)
To your success,
P.S. Tressa credits the "Book It! Workshop" in the video for giving her the confidence and ability to get the book done. Ready to become the author-ity in your market (or simply feeling a deep desire to share your life lessons with a greater audience)? Click here for details.