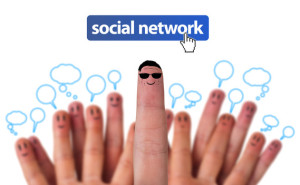 (a small business survival guide)
I have a confession to make. I hire help to schedule my Facebook and Twitter posts.
For the last several months, Hilary (my Purdue intern) has kept me at least a month ahead. Of course, as I write this, she just graduated. #sigh
Without help, I would never be able to keep up with social media.
I have a hunch you know what I mean.
Social Media may be free but it doesn't come without a time price tag.
Unfortunately, it's not at all uncommon to go to a meeting where a successful small business owner presents how he/she generates thousands of dollars in business via social media…but neglects to tell the audience that they invest 3-6 hours A DAY to do that.
Next time you attend Social Media presentation – your first question should be, "How much time do you invest a day, and what help do you hire to keep up with that pace?"
I suspect you'll quickly realize you aren't prepared to do what they do…at least not yet.
But you can do some things now to get better results.
Here is my advice to help you on that:
1. Post the right content for the channel
I want you to think about social media channels as different "parties" to attend to connect with people relevant to your business goals. Choosing appropriate content is about finding out what each party likes to discuss.
People go to Facebook to be entertained and to relax – so be friendly and social like you would at a BBQ;
People enter LinkedIn to expand their professional network so your posts here should focus on business topics;
Twitter is great for news, pithy quotes, and content links;
Pinterest is for inspiration and ideas;
and Instagram users like images that connect, uplift and encourage.
2.  Post your updates at the best time
Posting at the right time varies by social media channel. You've got to know when the bulk of your perfect party goers will be online. That's the beauty of studying "Insight Data" based on YOUR followers (which may be completely different than MY followers).
On Facebook, you can find the best days and times to post under your page Insights. Look under Post Insights.
LinkedIn has similar insights for businesses who have a Company Page, but if you don't (and few small businesses do)…the best advice I can give you is to post from your personal profile Tuesday through Thursday early in the morning. Saturday mornings are usually good too, but probably more-so in the winter than in the summer when weekends are busier.
For Twitter insights – check out FollowerWonk.com
For your personal Pinterest account insights – use TailwindApp.com  If you have a Pinterest Business Account (again, something few businesses have), you can get free insights for your business page within Pinterest itself.
For Instagram insights – go to IconoSquare.com
Armed with the right times to post, there are great tools to use to schedule posts in advance (aside from scheduling tool built into Facebook). I use Bufferapp.com and Hootsuite.com.
3. Post enough to be present at the party
If you're not ready to dedicate 3-6 hours a day to social media marketing, here are the minimum post levels I recommend to have a presence on any given social channel. Of course, choose only the channels you can keep up with at this time.
Facebook Page – minimum once a week (don't expect sales from this, but it does show you're alive and well when people investigate you). If you want to use it as a marketing channel, the minimum is really 2 status updates a day plus paid ads.
LinkedIn – Aim for a minimum of 1-2 business posts per month plus engagement in groups relevant to your target audience.
Twitter – The Twitter newsfeed is like CNN Headline news. If you don't post when your prospects are logged in, they'll probably never see your posts. To be active on Twitter, a bare minimum would be 3 well-timed posts per day. Ten a day is a good marketing goal.
Instagram and Pinterest – 2 new posts a week would be good if you want to add these channels for marketing purposes.
And finally, some tricks:
You can set up your some accounts to automatically post to others for you, which doubles your exposure. You'll need to turn these settings on in the right channels, but to give you an idea:
Facebook page posts can be automatically posted to Twitter too.
LinkedIn updates can go to LinkedIn and Twitter accounts.
…and Pinterest and Instagram images can forward to your personal Facebook profile.
Two important pieces of advice
First, make sure your website is current. Nothing says you're falling behind more than an outdated website. Get it up to par before you jump into using social media to drive traffic to your door. Trust me on this.
Second, determine if there are easier ways to market your business. Sometimes you can get more leads faster through other channels (like direct mail, public speaking, book marketing, Craigslist, etc.).
There you have it.
Love it, or hate it…I've shared some of the most realistic social media advice you'll ever see for solo-preneurs and small business owners who manage their own marketing.
Agree or disagree? Please share in the comments below. I love hearing from you.
Want to get one more great post added today? *wink* Click a link below to share this article with your followers.