I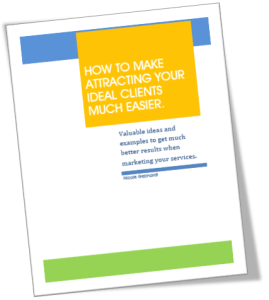 was up late last night to watch a 1-hour sales video and that reminded me again that most people won't do what I do.

I spend 4-8 hours a week studying marketing. I buy courses, books, videos, CDs, conferences, coaches, etc.

My greatest single investment is my continuing education. 

I do that so that when my clients ask "What do I do?" I know what's working NOW and I can help them implement it in their business.

That's my passion.

I love to break down complicated ideas into step-by-step action plans.

Attached is guide I wrote for you: 
How to Make Attracting Your Ideal Clients Much Easier.

It's plain talk on a subject that often sounds complicated.

I wrote it because I see many business leaders who think they know what they need to be doing, and in most cases they're wasting a whole lot of time and money on marketing that no longer works.

The guide doesn't contain everything I know, of course…but it's filled with 7 things you need to understand now.

Please grab a coffee, take 15 minutes and read it.
It will help you.
I promise.
P.S. At the end of this guide there's a shameless plug for you to join me at my upcoming Breakthrough Workshop in Lafayette where you can work for me for less than $40 an hour. But hurry – the $50 savings offer from our sponsor Heath CPA & Associates ends in one week.