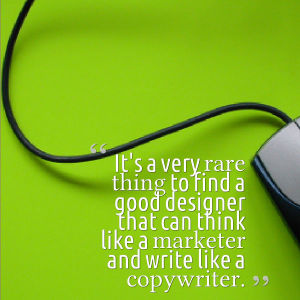 Sending work to a graphic designer seems to be one of those mystical challenges small business owners hate, so today I thought I'd share some advice that will save you a lot of money and frustration the next time you need to hire a designer.
If you don't know, I got my college degree in Graphics and then worked for 12+ years in PR and Communications. Along the way, design work has always been instrumental to the overall appeal of the message. These days I find design work tedious, so even I hire out my work on occasion.
The tips I'm about to share are how I get projects done at half the price you'd probably pay for the same project.
Truth be told, I often hear business owners groan that the following details are something "a designer should figure out". That's a costly belief.
If you really want to pass off the thinking process, you need an agency, not a designer. An agency will pull together the strategist, the copywriter and the designer to achieve your goal. You'll also pay more for this full service. It's nice if you can afford it. Even still, plan to spend time with the agency staff explaining your business, your products and your goals.
By contrast, an independent designer is just that: a designer. It's a very rare thing to find a designer that can think like a marketer and write like a copywriter.
The good news is, with a little bit of effort on your end, you can save a lot money and get better results. Here's how:
How to Save A Lot of Money When Hiring a Graphic Designer
#1 Provide all the Text in One Master File
This is the #1 place I see projects fail. Designers are waiting on copy, and businesses think the designer should be able to whip something up from scribbled notes and thin air. With rare exception, designers are NOT copywriters. (They're also not marketers.) If you want the project to get done, provide your designer with a master document that contains all the text for the project. If you can't write it, then you're not looking for a designer yet. You're looking for a copywriter.
Before you hand the document to the designer, proof it carefully. Change orders to graphic designs can be costly and time consuming.
Tip: Create this master text document BEFORE you ask for a quote. Seeing how wonderfully organized you are should greatly reduce the price and their estimated delivery date. It also will give you tremendous clarity on what you really need and who's capable of doing it.
#2 Be Specific About What Goes Where.
You need to give your designer a master word document, containing all the content you want and exactly where it goes. A business card plan should spell out "FRONT COPY" and "BACK COPY". A website should list the TABS you want and what goes on each page. In all cases, you should list specific images you want, video files, downloads, and text. If you want them to find new images, specify the look/feel you want.
#3 Create a Shared Folder Containing all the Files They Need.
It's utterly frustrating for a designer to keep asking for and getting pieces of what they need bit-by-bit in separate emails and loose papers. Create a Dropbox account and place everything they might need in there as soon as the project starts. That includes your master plan, logos, photos, images, certification and membership seals, videos, and such. They'll love you for it!
#4 Provide Samples of Work You Like.
This is my ultimate secret weapon. For every project, I provide 3-5 similar items for inspiration. If it's a website, I send links to other websites I like (and why). If it's a logo, I Google "business logo images" and send samples that appeal to me, and so on.
Your samples give the designer an idea of the color palettes, font styles, trendiness, etc., you like. Knowing what styles appeal to you gets the designer moving in the right direction from the beginning so there are fewer rounds of editing.
Tip: Avoid handling them design ideas from your competitor's material. Try to find samples from other industries or categories to help your designer avoid even the appearance of plagiarism or copyright infringement at all costs. For example, if you're a landscaper, you might find great samples within home decorator categories. If you're an insurance agent, search ideas from financial planners or business consultants.
#5 Hire the Right Person for the Job
Few people realize that designers are like any other professional. They all have their strengths and weaknesses. Unfortunately, most people think any artistic person can design anything. Not true. Some designers are great with logos, but terrible with brochures or book covers. Some are great artists, but can't do business material. Some can do print, but not web, and so on. You must find someone GOOD AT the type of work you need done.
Tip: A hungry artist will rarely turn work away so it's up to you to decide if they can do the work you need. If you don't have a good design sense, ask someone who does to review your prospective designer's portfolio for the type of work you're considering before you commit!
It's also worth mentioning here that there are a plethora of 'designers' who are actually just people who know how to use design software or write website code. On several occasions (5 come to mind immediately), I've had to insist new clients start over on their existing websites, brochures, and even books because the material is loaded with errors, bad writing, and obvious design flaws. In most cases, the client was so happy to have the work done they were blind to the shoddy work. Customers aren't.
Quality design work is utterly important to your brand.
In summary:
As with all projects, there's no shortcut to getting a design project done, but if you do the prep work, you really can save a lot of time and money. If you follow the steps above you can hire someone with a little less experience for less and/or you can hire the best, but use less of their time. Either way, you'll still pay a lot less than someone else would pay without doing the prep work…and you'll be done much quicker!
It all begins by blocking the time you need to organize your plan so the rest of the work goes smoothly.
Need someone to plan your project, write copy or find the right designer? We do that. Contact us.
Got a designer success or horror story of your own? What lesson did you learn the hard way? Share below: