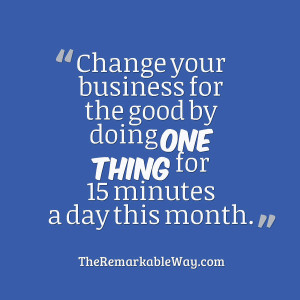 Did you know if you read a book just 15 minutes a day you could finish an average of two books a month?
This week's challenge is to identify ONE SMART THING you could do for 15 minutes a day this month.
Try to pick something that would feel GREAT if you did it.
Keep it simple and use the timer feature on your smart phone to keep you from going too long. Part of the beauty of this plan is to develop a habit of using 15-minute time blocks to achieve what otherwise feels overwhelming.
Here are some business-related ideas:
Organize your office: drawer by drawer, stray business-card-by-business-card.
Schedule 2-3 social media posts a day.
Expand your social media network – particularly in LinkedIn.
Read a book.
Enter contacts into a database like AddressTwo or Premium Web Cart.
Make a prioritized To Do list for tomorrow.
Review one old magazine a day.
Complete bite-size tasks toward a major project you've been putting off.
Listen to a CD series during your commute.
Call or send a hand-written note to one person a day.
Learn a new software (watch one tutorial video a day).
If you're going to take on this challenge, be sure to read last week's post "Don't Break the Chain" and print off the calendar to track yourself. I also share ideas on involving your team.
Best wishes!
P.S. Caution: This definitely is habit forming! I've already adopted four (4!) new 15-minute habits a day using this method. That's an hour a day (7 hours a week!) I'm making better use of my time to achieve my long-term goals and because they're short, it never feels overwhelming.