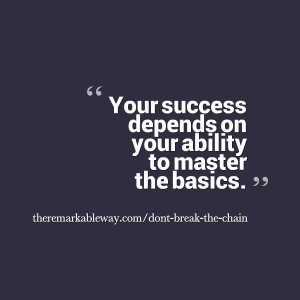 Could adopting a good habit be life changing for you? You betcha!
Your success depends on your ability to master the basics.
A few weeks ago I stumbled across Jerry Seinfeld's simple but genius method of adopting a good habit. It's called "Don't Break the Chain". Its simplicity is what makes it work. All you need is a blank calendar, a red marker, and a habit you want to adopt.
Step 1: Identify a habit you want to adopt.
For your challenge, I recommend habits that you ultimately need to adopt for a lifetime…or a habit that will help you get a major project done. Here are a few ideas:
Start each day with a prioritized To Do list.
Exercise 10-15-30 minutes a day.
Read 15 minutes a day.
Work on XYZ project 30 minutes every day.
Clean your desk every night.
Make 5 new lead calls a day.
Study or pray every morning.
Write in a Gratitude Journal every night.
Give up something…like opening email (or Facebook!) before your #1 priority is done.
I recommend identifying 2 habits for your challenge. One personal and one business.
Step 2: Post a calendar for each habit in your challenge.
Need a calendar? You can print 2 blank calendars here.
Step 3: Give yourself a Big Red X every day you complete your challenge.
Your goal is to get a chain of red X's with no "breaks in the chain." After about 4 days, it becomes really compelling to keep things going.
Accountability makes this even more fun. Involve your spouse and kids – and definitely challenge your staff to participate with you. Have everyone post their calendars on their door or on the office fridge.
Note: It is permissible to change your habit on the weekends (or vacations), but you must have something you do in its place. For example, one of my first habits was to "Create a prioritized task list for tomorrow before I go to bed". On vacation, I changed my challenge to: 1) read a business book 20 minutes every day; 2) keep my email inbox clean. Those were my only business "tasks" that week, so I got a red X if I did it.
Step 4: Set up a reward.
Begin with the end in mind.
What's something you could do when you complete a one-month chain? Get a massage, take an afternoon off for a specific hobby you enjoy, buy something you want, etc. Pick it – and schedule it now!
You can set a self-imposed punishment too – something awful you have to do if you DON'T keep it going – like clean someone else's bathroom or car, donate to the opposing political party, etc. These are great to brainstorm if you're doing this as a group, so have fun with it!
That's it!
What's your challenge going to be?
Will you involve your family or staff too? Share below or tag me in a Facebook post. (Bonus points if you link to this article to spread the idea!)
Here's to your remarkable success!
– Nicole