This is an unusual blog post for me but with Robin William's death, it just feels timely to address.
To be clear, I'm not qualified or equipped to diagnose or treat any medical condition. I urge you to seek professional help if you think you might be suffering from depression or have any mental wellness concerns.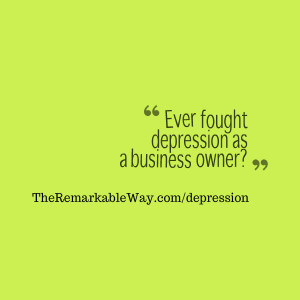 Like most of America, I was surprised and sad to learn of Robin William's death. After all, he was a very successful business man.
I have a lot of private conversations with business owners. I'm no longer surprised when talented men and women confide in me their utter frustrations, disappointments, and fears.
Not everyone is as happy as they appear.
Some people are battling true depression while trying to run a business. Others are so exhausted and frustrated that it's affecting their health and relationships.
Even when things are going well, being a business owner can be challenging and lonely.
Our civilian friends (people who don't own a business) can't relate to all the issues we face or why on earth we would do this to ourselves in the first place.
In one of my first workshops, 5 out of the 10 business owners confided in me that they were thinking of closing, quitting, or selling their business.
I'm thrilled they came to me first for hope, help, and a new perspective. Most of you have clients who need the same thing from you. But you've got to 'have it' to 'give it'.
I imagine Robin Williams didn't feel he had it to give any more. What a shame because he brought so much joy to so many.
If you're battling grief, depression, or negative thoughts, two great books on the subject are: Who Switched Off My Brain by Dr. Caroline Leaf and Battlefield of The Mind by Joyce Meyer.
When you've built the business you REALLY want and have support (and systems) in place to keep it running, you're able to help a lot of people. That starts with a vision, a plan, and awareness of where you can get tripped up or off-track.
You've also got to manage your business to guard against prolonged stress, strain and a lack of support (all common causes of depression). You've got to take care of you!
Here are three requirements my own coach requires of me to make sure I'm building the business and life I want. Feel free to adopt them too:
3 Requirements for the Business Owner's Life:
Have a weekly date night with your spouse. Put it on both of your calendars now and be intentional about doing something together.
Plan regular fun for the family. Reserve 1-1 time with each of your children (or grandchildren). Schedule regular family activities.
Block time to work ON your business every week. To get where you want, you must have focused time to develop and implement your ideas.
It can be TOUGH to do what you do but you're in the perfect position to change it!
There is hope and even little changes can make a big difference.
With every client, I start with the vision: "What do you really want?"
I'm not bringing you more clients until we have a clear vision for what you really want and how your business could get you there.
It's probably a good time to remind you I have both a 4-week workshop and a small group mastermind launching this month. If you live in Central Indiana, these are great places to commit to working ON your business. Reach out to me if you'd like to talk. To your remarkable success, – Nicole P.S. The Breakthrough Workshop is designed specifically to get you out of overwhelm and help you see new possibilities in surprising places. It's not about creating a list of more stuff you should do. It's the things you'll want to do to set yourself free. The Small Group Mastermind is designed to support business owners as they implement their plans and pursue new opportunities. It's also a safe place to confide in your peers for help.