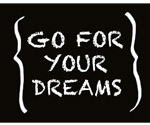 The other day I was in a downtown office complex visiting a client when a guest came in and greeted the office receptionist. She communicated that she owned a little book shop around the corner and she was sharing a few coupons for any readers in the office.
It was a simple little marketing act but I admired her greatly.
She is going after her business dream door-to-door. She was doing something TODAY to work on her dream.
It's that determination that I admire.
What's your business dream? Does it still excite you? Would you hit the pavement and go door-to-door – not out of desperation, but out of excitement?! As I plan my own business for the new year, I'm dreaming, not only about this year, but a 3-year plan. What I want my life to look like in 2016+, the goals I want to achieve for myself, my family, my faith and the causes I care about. It's exciting and invigorating. I encourage you to do it too.
Here's how. One night this week, cuddle up with a journal and finish this statement:
Wow, I can't believe how far I've come in the past three years. I'm so grateful for…
Be specific. Dream BIG…and then let's get started! Create your plan at the next Breakthrough Workshop.