It's not often you see your employee waggle for your customers.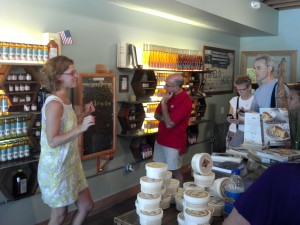 But then, you don't have Kate.
Last month I had the opportunity to spend three days in Savannah, GA with my coach and a few peers to step away from our day to day lives and re-imagine all that we and our business could be. Part of the experience included meeting two local business owners with thriving businesses.
That's where I met Kate.
Her boss, Ted Dennard created Savannah Bee Company, a bottler of world-class honeys and beeswax-based body care products. Ted spoke to us for about 45-minutes, sharing his humble story of how a chance encounter with an old bee keeper when he was twelve evolved into a million-dollar business. He is a well spoken business man completely at home in his mismatched leather flip flops sporting a look that would suggest adventurer, surfer, or tree-hugger. Certainly not what you would expect from a finalist of the 2010 Ernst & Young Entrepreneur of the Year award.
Ted is the real deal, but I loved Kate.
Kate is one of the newest faces at Savannah Bee and she is IN LOVE with what she does. Kate is a lean and muscular blond with bouncy curls that fall just over her ears. She dresses in casual, comfortable natural cotton beachwear and sandals, as does the rest of the team in popular little resort town. Kate unmistakably embodies the pure natural Savannah Bee brand.
As Kate introduced us to the Savannah Bee line of honey products and the amazing bumble bee that makes it all possible, she literally oozed giddiness. She showed us the in-store beehive thriving with activity, pointed out the different bee roles and shared with us how she intentionally allows herself to be stung monthly to overcome her dangerous allergy to bees. And then the sweetest thing happened. Kate showed all fifteen of us attentive Yankee entrepreneurs the scout bee waggle. Shifting from left to right and beaming from ear to ear, she twisted with more zeal than Chubby Checker himself. We loved her.
You need a Kate. I need a Kate. As small business leaders we need team members genuinely excited about what we're doing and why. Excited enough to waggle for strangers. At Savannah Bee, you could have imagined any one of their team members willing to do the same. Even more advantageous to Ted, you could have hand-picked Savannah-Bee-worthy employees from a crowd of applicants within a few minutes.The brand image is so strong, misfits (employees, vendors and customers) are blatantly out-of-place immediately – like crickets trying to invade a bee hive.
Here are five brand lessons from that field trip I'd like to share with you:
Create a cause behind your brand that is exciting. It is about more than money honey.
Be authentic. Establish the brand and trust in the brand.
Be intentional about hiring the right personal values and training for skill. It can be slow in the beginning, but the rewards payoff for years to come.
When your brand is strong, it is easy to locate people who appreciate it.
Leverage relationships with companies that also embody the brand and the mission.
Thinking about your brand? If I had to pick one word for the Savannah Bee Brand it would be "authentic".
Here's your challenge: Take a minute to identify one or two words that would describe your ideal brand image and then share them on my Facebook wall.
Cheers!
– Nicole