We should probably kick this conversation off by discussing the idea that you can write a book in 90 Days.
I know some book coaches advertise packages to "write a best seller in a weekend" or even "speak your book in one hour", but that's just not my thing. YOUR book is an authority-building platform and you don't want to fake that with 2-3 days worth of effort.
At the other end of the spectrum, I've met many people who have been "working on" their book for 2 or 3 years. I think we can all honestly say that there's very little "work" being done at that pace. All inertia from the original idea has been lost and the writer probably lives with a good deal of frustration for not having it done.
When you set a focused period of time to get your book DONE it's easier to stay excited, focused, and productive.
I planned and wrote my first book in 7 intense days. I don't share that to brag, but rather to help you reframe what you believe is possible. That book was only 55 pages, but it did effectively launch our entire publishing business. I wrote my second book in 6 weeks and pushed it to Amazon Best Seller status. That one helped me attract our two biggest ongoing clients.
You don't make any money until the book is DONE.
Many productivity coaches trumpet the value of working in 90-Day increments and I agree. 90 Days is short enough for our brains to effectively grasp – while long enough to achieve good results. So in this longer-than-normal post, I'll give you a guide for writing a great book in about 12 weeks.
How to Write Your Book in 90 Days
Note: The following content is excerpted from the BOOK IT! Authority Lab which is a step-by-step system to Plan, Write, Publish, and Promote a Book to build your business. You can find it here: NichePressworks.com/AuthorityLab
Step 1: Get The Write Start
One of the biggest mistakes I see business authors make is writing the WRONG book. They write the book they want to write, not the book their audience wants to read. The result is an emotionally devastating marketing flop.
For the business leader, the RIGHT book must do three things:
Establish you as an authority in your niche.
Attract your ideal client.
Motivate people to take action (which may be to hire YOU!)
What book topic should you pick?
Download "The Write Start" for 7 simple questions will help you craft the perfect book idea for your business goals.
Step 2: Write a Killer Outline
It's REALLY important to spend several hours (at least 3-4) on this step, and to let it span over a few days. A very detailed outline will save you many headaches down the road and speed up your writing considerably. Your outline should contain all the titles, subtitles, stories, facts, concepts, images, etc. that you want in each section.
Some writers like to use software for this process such as Evernote, Scrivener, or a word processor like Word. Personally, I recommend you start away from the computer to let your brain free flow with ideas.
The best method for this process is to record every key point, idea, or topic on its own piece of paper. Inexpensive 3×5 notecards work great for this…or even the backs of old business cards. Start with an intense 30-45 minute 'brain dump' and then just keep jotting ideas down over the next 2-3 days as you go about your day.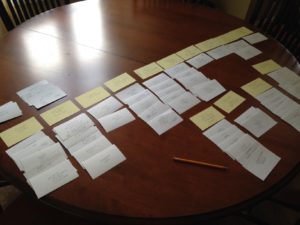 When you're done, organize the cards into a logical flow and transfer your master plan to a computer. If it doesn't span at least 3 pages, you haven't gone into enough detail. Each time you write, you'll have to spend extra time rethinking your plan.
Tip: A longer outline makes it much easier to write in shorter sprints.
It's too much detail for this post, but inside the Authority Lab I share the 6 most common Content Organization Models plus the proper order of all the other stuff you'll need to include between your Title Page and #TheEnd.
Step 3: Do the Math
As a general rule of thumb, I suggest business leaders write one chapter a week. That's about the same pace as maintaining a weekly blog, and achievable for most.  Of course, the length of a book and chapter length can vary widely so here's a more specific formula to determine how many pages you'll need to write per week to meet your goal.
It may seem odd to start by asking how many pages you want your book to be, but book length is a major factor in readership…as this graphic shows. Obviously, if you want your book to convert into clients, you'll want them to READ it.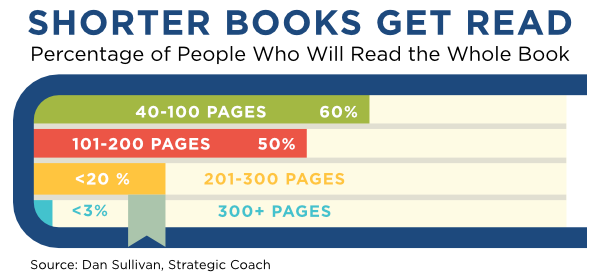 Timeline Math
1. How many pages do you want your book to be?
2. What's today's date?
3. Date you want your first bulk order to arrive?
4. Deduct 8-10 weeks for the Publishing Phase (edit, design, proof, ship).
5. How many weeks remain?
6. Divide the # weeks (item 5) remaining by # pages (item 1) to determine how many pages you'll need to write per week to finish your manuscript AND get it edited and published in time for your goal.
Step 4: Block the Time
Time Blocking is the practice of scheduling To Do items as actual appointments on your calendar and it's essential for your book writing goals. You must treat your writing time as importantly as you would any client appointment and schedule it accordingly.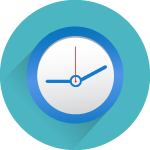 Everyone writes at a different pace and some chapters will be easier to write than others so it's impossible to predict how much time you will need to write your book. It's easier to think in terms of making it a habit to write regularly.
Productivity experts suggest working in 50- or 90-minute uninterrupted sprints with your door shut and your cell phone and email off. Start your writing by scheduling 3-4 sprint times in your week based on your Timeline Math.
Step 5: WRITE!
There are many ways to write a book – or write a book faster. Inside The Authority Lab I include a full page of "write faster" ideas. Here are three:
Work from an outline (as described in Step 2).  A detailed outline will help you collect your thoughts quickly and make working in sprints much more productive.
Talk your book. If you're a good speaker, you may find it works well to record yourself as you speak through your outline. You can use your smartphone to record yourself and then pay to have it transcribed for you, or someone else, to edit.
Outsource the writing. With a great outline, it's easier (but it can be costly) to hire someone else to write your book – or sections of your book.  It takes work to find someone who can mimic your voice and style, so budget to have several writers write sample chapters for your selection process.
Just write. Sometimes you won't feel like writing. Write anyway to keep your momentum going. Make writing a regular habit.
Step 6: Prepare to Publish
Congratulations! The next step is to hire an editor and then a book formatter and designer.
Many writers underestimate all the details that go into turning a manuscript into a beautifully published print and digital book. Be sure you budget time for your support team to do their job well. Plan for the process to take 8-10 weeks, including time for your editor, cover design, formatting, account management, proofs, and shipping times (which can consume almost half of the overall time!).
If you're a DIY'er or on a budget, you can manage this phase on your own. Lab 3 of the Book It! Authority Lab includes all the checklists and recommended resources to self-publish your book. With so many options to navigate, the step-by-step suggestions in this Publishing Lab alone can more than pay for the entire Authority Lab.
If the mere idea of managing all this on your own sends you into overwhelm, check out our Done-for-You Publishing Services where my team will take care of all the details in less time and with a lot less frustration.
---
Not sure a book is the right next step to achieve your business goals? Start with a consulting session to determine what your next move should be.