Still trying to find what time management practices works for you because nothing seems to stick? Try these ideas:
3 Simple Productivity Hacks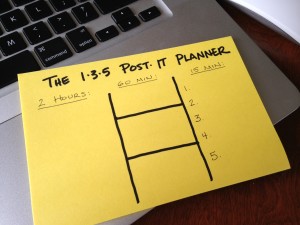 1. Always make your To Do list the night before. You sleep better when you have a plan.
Check out this idea from @jazer on Twitter called the 1-3-5 Plan. You can do it on a Post-it Note. Block 2 hours for your biggest project; block three 60-minute sessions for medium projects; and write out 5 tasks you could complete in 15-minutes or less…including these 5-minute marketing ideas.
2. Don't open email before 10 am. Get your big project done first before email distracts and derails you. Make "email" one of your daily 60-minute tasks.
3. Set time deadlines. This is especially important for my fellow perfectionists. If you're done early, you can keep working on the project but once time is up…move on.  The 1-3-5 Plan conveniently has time deadlines built into the plan…just use those.
Tip: Track time using your smart phone alarm. iPhone users can simply ask Siri to "Set an alarm for 60-minutes."
Adopt this idea right now:
Time block two 60-minute and three 15-minute tasks for the rest of your day.
Draw out a 1-3-5 template immediately, and fill it in for tomorrow before you leave your office today.
Share below what your 2-hour project for tomorrow will be: